Toni Milenkovski : favourite 2016 albums
Toni Milenkovski, author of the two-weekly Popscotch radio show "John Cage Bubblegum", picks his favourite albums of the year: from Carnatic music to adventurous free jazz, from early pioneers of electronic music to sound collagists, from aleatoric techno to raga improvisations.

15. JOANNA BROUK – HEARING MUSIC (NUMERO)
Sharing the same intersensory approach to the sonic environment as the Deep Listening founder Pauline Oliveros, Joanna Brouk, a student of Robert Ashley and Terry Riley, and pioneer of early electronic music, weaves ambient, drone, new age, nature recordings and classical minimalism into spiritually-charged compositions, devoid of the cloying mumbo jumbo new age gets usually associated with.

14. VARIOUS ARTISTS – U POTRAZI ZA NOVIM ZVUKOM : 1956-1984 – ANTOLOGIJA ELEKTROAKUSTIČKE GLAZBE HRVATSKIH SKLADATELJA (CROATIA)
In a comprehensive overview from 1956 to 1984, the anthology brings to light rare pioneering works of musique concrète, electronic, electroacoustic and tape music from Croatia's golden era of electronic music, realized at various electronic studios in Yugoslavia and abroad, reaffirming the role of Croatian composers as a pivotal factor in the development of European academic electronic music.

13. GRAHAM LAMBKIN – COMMUNITY (KYE/ERSTWHILE) 
The prominent tape collagist has never sounded as pastoral as he does in his newest exercise of deconstruction of the mundane.

12. KAY HILL & CREMATION LILY – NORTHERN FIELDS (STRANGE RULES)
A blank screen of flickering tape loops building up in slow motion against a backdrop of buzzing synth tones to an anticlimactic epilogue.

11. BRIGID MAE POWER – BRIGID MAE POWER (TOMPKINS SQUARE)
If Sandy Denny recorded for early 4AD

10. LA TENE – VOUERCA/ FAHY (THREE:FOUR)
Trance-inducing monolithic drone ragas performed on harmonium, hurdy-gurdy and percussion that evoke both La Monte Young's Eastern-tinged minimalism and French medieval folk

9. M GEDDES GENGRAS – INTERIOR ARCHITECTURE (INTERCOASTAL ARTISTS)
Drawing from minimalism, Berlin School of electronic music and free jazz (Extension_Breath_Worm Suite Pt. 3,), modular synth sorcerer carves four sound sculptures of free-flowing electronic burbling, subliminally affecting the listener's perception of sound like a new form of deep listening.

8. THE FIRST BABOON CIVILISATION – THE FIRST BABOON CIVILISATION (MOONTOWN)
The Australian large-scale free jazz ensemble, responsible for one of the best jazz records you probably won't hear all year, ventures into cosmic jazz-meets-tape trickery escapades, summoning the spirits of Sun Ra and Art Ensemble of Chicago.

7. SOMNOROASE PĂSĂRELE- CO (BABA VANGA)
CO finds the Romanian duo further expanding upon their distinctive "aleatoric techno" aesthetic with a vast array of sound patterns, ranging from carefully textured electroacoustic monoliths to freeform throbbing industrial rattle of machines gone wrong that would make Luigi Russolo blush.

6. AMATEUR HOUR – AMATEUR HOUR (FORLAG FOR FRI MUSIK)
Dan Johansson, the Swedish underground luminary, teams up with bassist Hugo Randulv and vocalist Julia Bjernelind for a no-fi assault of murky gauze-layered ethereal melodies and reverb-coated vocals getting sucked into a black hole of distorted tape loops.

5. TONGUES OF LIGHT – CHANNELED MESSAGES AT THE END OF HISTORY (PRE-CERT)
A sound collage of various field recordings of vocal practices from around the world that is meant to invoke the notion of Universal Consciousness.

4. AMIRTHA KIDAMBI & ELDER ONES – HOLY SCIENCE (NORTHERN-SPY)
Carnatic-trained Linda Sharrock contemplates spiritual jazz over a bed of harmonium drones.

3. HERMIONE JOHNSON & STEFAN NEVILLE – SCRUM (FEEDING TUBE)
A chance meeting of John Cage and Cecil Taylor inside a piano in New Zealand.

2. LEA BERTUCCI – AXIS/ ATLAS (CLANDESTINE COMPOSITIONS)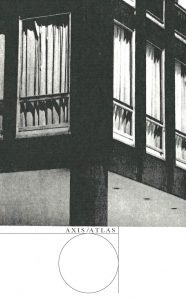 In her most mature works for tape to date, Bertucci juxtaposes the warm resonance of her prepared clarinet against an industrial clatter of concrete sounds to an effect that is both soothing and menacing.

1. STUART CHALMERS – IN THE HEART OF WILDERNESS (WAS IST DAS?)
The British sound scavenger and master of tape manipulation delves deeper into his psyche and delivers a high-end mysticism through heavily processed raga-like improvisations on a prepared swarmandal (Indian zither).