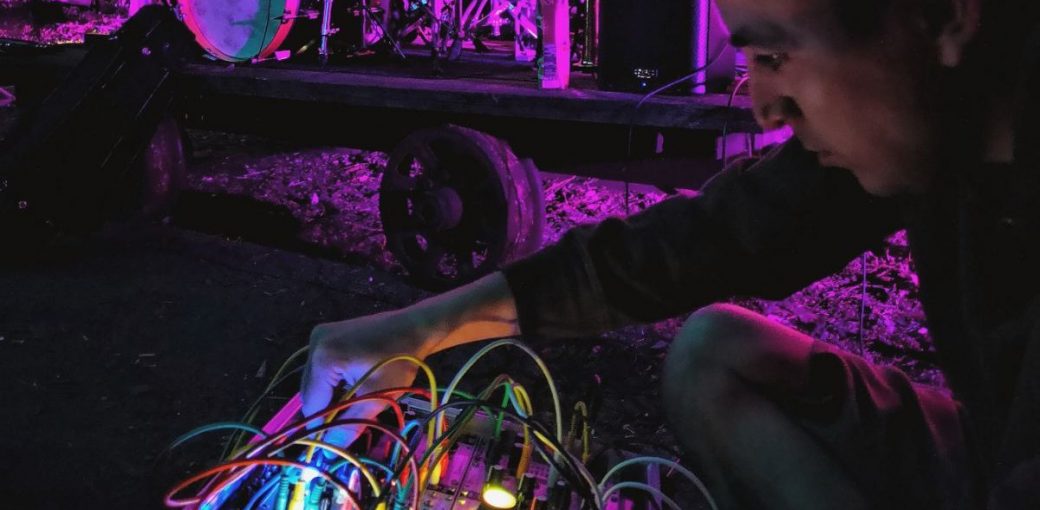 Sava Botić – Ex-Yu Modular Electronic Vol. 1
Our seventh questionnaire for the upcoming compilation is with Sava Botić, electronic musician from Novi Sad, who has a solo project under his name, plays in duo Elight with drummer Nemanja Tasić, plays keyboards in the bands Deep Steady and Wabi Trio and is a frequent player at local events for improvised music. 

When did your love for electronic music start? What is the first synth you've bought / played?
One of my earliest memories is listening to a record by Laza Ristovski called Merge. You can clearly hear the influence of that record in my first recordings. It was 1994, I was 10 years old, had good grades and my parents gave me money to buy a keyboard, so I bought a little arranger keyboard and a cheap cassette player/recorder. I bought my first proper subtractive synth in 2005. It was a Roland JP8000.

How did you get into modular synthesis? Can you tell us a bit more about your current set-up?
Buying my first synthesizer, playing and learning more and more about synthesis, made me realize the limitations of fixed architecture synths and so,  in 2015 I bought my first module.
My current set-up consists of two Dopefer A-100P6 cases, not yet full. Its portable, robust and most importantly – no power adapters.

All of your Bandcamp releases have so far been constructed as some (up to 2 minutes long) sonic miniatures where you usually dabble with ambient and electronic sketches and  loops. Why do you have this preference towards shorter pieces, and what other instruments do you play on them?
I lost interest in song structures and arrangements. These last few years, there is only a need to convey a certain mood, idea or a proof of concept and it seems that one or two minute recordings  are more than enough for that.
Other then my modular system, I use different synths, rhodes electric piano, guitar, kalimba and other found objects with contact microphones in an electroacoustic setting.
Latest Bandcamp release : Ebb

You have had quite of an experience playing in improvised and jazz formations…in which ways would you say this has affected your solo musical practice so far?  Have you had any singular synth performances, or playing in a more electronic context (event, festival)
It made me aware of the ever changing nature of things. It helped me create more organic and nature-like soundscapes using electronic instruments.
I had a performance called Vocaloids, where the only sound sources I used were the recordings of audience members that were brave enough to come to the stage, stand in front of the microphone and produce a sound, whether it was a speech, singing or jingling of keys. This performance is on my youtube channel, if you feel like listening,
At other times, I would perform at the outdoor event, limiting myself to only using field recordings, creating ambiences and making people think that there are some exotic birds in the trees chirping.
Using my electronic setup, I mostly perform with Elight. We are a duo (with Nemanja Tasić on drums), consisting of modulars and acoustic drums that are interconnected. We play experimental breakbeat and DnB. Check out our track called 'NS' on youtube.

Can you tell us something about your track "ive4", from the upcoming Popscotch compilation?
At that time, my main point of fascination was an envelope follower, a module in a modular system that generates CV signals using an amplitude of the incoming audio. I took a drum multitrack recording from one of the Elight sessions with my drummer Nemanja Tasić and sent three channels of drums to three different envelope followers and used them to trigger and modify three different sounds inside the modular. I then used a mixer and effects to play and process the sounds in the style of oldschool jamaican dub and recorded it in one take.

How did the entire situation with the pandemic  affect your musical / professional life?
I wasn't able to perform live for nine months. Luckily, I had some online work, composing music and doing sound post-production for a few animated videos. Ironically, they were about covid19 prevention measures in the workplace.