Kӣr – Ex-Yu Modular Electronic Vol.1
cover photo : Srđan Veljović / Live Soundtrack

Our 10th and ultimate questionnaire for the upcoming compilation Ex-Yu Modular Electronic Vol. 1 is with Branislav Jovančević (Kӣr), resident live artist and program manager of Belgrade's club, Drug§tore. His first release Imrali was on Creme Organization and second one Mramorje was released on Yerevan Tapes. By combining traditional and experimental influences in electro-acoustic music, Kӣr creates the sound in which drone-navigated post-industrial logos transgresses into a tribal mythos, in search for the traces of future.
When did your love for electronic music start? What is the first synth you've bought / played?
My interest in electronic music, or some of its derivates, came in high school with deeper exploration of psychedelic scenes of 60s and 70s and fusion jazz. At that time electronic dance music was totally out of my interest, which I can maybe say for this moment as well (smile). At that time I started to record my acoustic instruments with Steinberg Cubase and realized I liked manipulating with those recorded sounds even more than playing them. So I switched to Propellerhead Reason and there I started to fiddle around with their build in synths, which to some extend has some kind of modular approach.
My first hardware synth was Korg R3, but menu diving with this one is kind of boring, so I ditched it too fast. After that my good friend borrowed me Doepfer Dark Energy mk1 and from there I fall into the modular trap.

How did you get into modular synthesis? Can you tell us a bit more about your current set-up?
Dark Energy mk1 (my first semi-modular) is really a beast with overall sound and some particular parts, such is its legendary filter that I wish I have now so much. But in the essence its architecture is rather simple. So I wanted more control and especially more modulation over its parameters. So next step was to buy case for modular and to get some complex and what is most important synced LFO (low frequency oscillator). At that time Xaoc Devices just released Batumi, which is still one of the best LFOs on the market, and my brain was fried over the vast possibilities this module could deliver. I think I still use like 30% of its full potential. Then together with Jan Nemeček and Vlada Riznić (Girl Next Gulag) we started to obtain parts for building certain number of DIY Mutable Instruments modules. This batch was never assembled together and it's still rotting in some smart phone shop in lower Dorćol, waiting to be soldered. But during this process I realized I could make a small manufacture of custom (mostly black – this is very important J ) front panels for modules. So with couple of successfull barter deals, I've soon built a really nice rack. Now I run panel design manufacture Chora Panels.
My current setup is build around two cases, first one is a 6U 104HP travel case that I use on live sets and as a main part of my sistem. Second case is 3U 100ishHP with rest of the modules I have, mixed bunch of this and that, which is usually changed for every session. Main case is build around couple of really powerful modules and its heart is Intellijel Shapeshifter (main voice). Other voices are uBraids and nanoRings, modulations done by Batumi, Maths, uO_c, all driven by Stillson Hammer mk2 sequencer, uYarns and triggered by uTemps Utile, filtered by Xaoc Belgrad, and delay by insanely deep Intellijel Rainmaker. This setup is highly versatile and can be used both for club oriented banging, but also for highly experimental shows, so I'm very happy with it. Case that I'm made for it I also really like, as its all wood, very sturdy and multipractic; mostly used to sit on it on airports and to pack other luggage in it, to save up space in carry on bag for omni-evil airline companies.
Second case is centered around Intellijel Rubicon and Planar mk1 (you can see that Intellijel is my favorite company alongside Xaoc Devices). Super interesting and very conceptual module there is 4ms Spectral Multiband Resonator which I'm dreaming to swap with 4ms Spherical Wavetable Navigator, with similar concept but much more usable as resonating filters are changed into wavetable oscillators.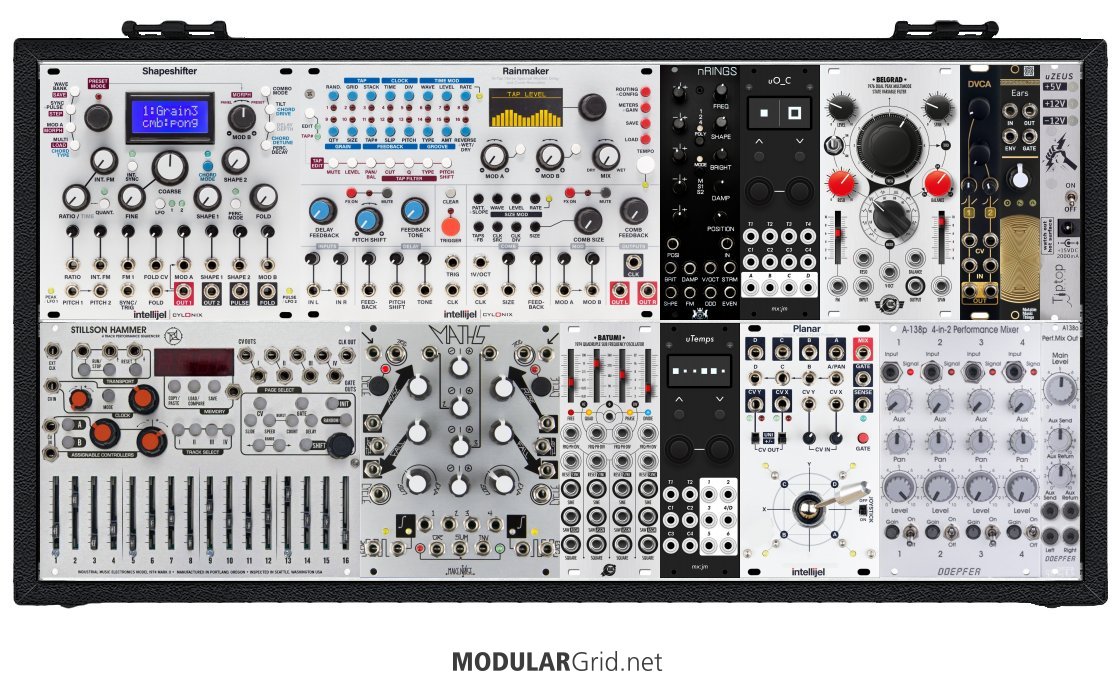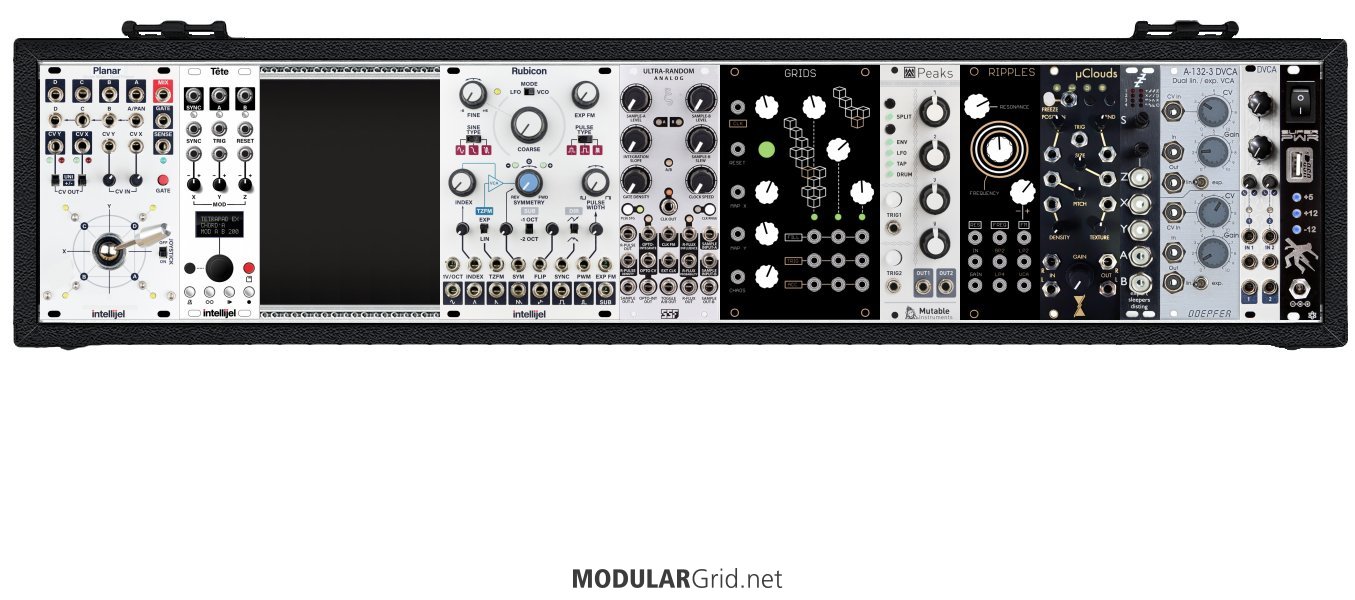 Your music can be described as arcane, yet club-friendly, brewing with lots of different influences. How would you describe the m.o of the magic potion you're trying to achieve when you mix folkloric instruments (for instance, Greek lyre) with the electronics. Is it challenging to make music like this, while retaining a good flavor for the both halves?
Challenges are many, and mixing electronics with traditional instruments is often a recipe for cheesy "spiritual" attempts of new age generation and its contemporary followers, and this is what I'm trying to avoid.  As music is not just mare sensory stimuli, but also a social entity (T.W. Adorno), my goal, on the surface level, is that through this amalgam of abstract and traditional I challenge entrenched norms of what (genre), where (performing/listening space) and who (social background/class) is playing/listening to music. Experimentation with this dichotomy of well-known vs. unrecognizable, approachable vs. abstract (through timber, color, form and ways of blending it all together) is giving me hope that sometimes I succeed in evoking in listeners' imagination some alternative cosmology, while still maintaining connection with material reality. Iconography and symbolism that I'm usually relating to my music is somehow mostly linked with different forms of religious or mystical practices from the Middle Age (mostly from Balkan traditions), and with that I'm deliberately giving strong prefix and starting point for explorations by stepping back a bit into murky waters of times. These "dark times" are moments where time and space are shrank, and where reality is not clear, and for me this is a great prefix to start a new journey towards any temporal side, past or future.

You're involved in the organization of the just finished festival "Polja", yet another collaboration of the folks from Dis-patch and Drug§tore. How does it fit into the vision of the digital folklore and the marriage of tradition and contemporaneity?
As with making music, where I'm trying to blend best of those two worlds, my aspirations when I'm booking the shows are also leaning towards this marriage, and with "Polja" I think we did it with great success. Both nights really saw perfect balance, and with adding up live set of Maginye on the second night, we really had everything covered. Also I think it's of most importance to be inclusive for the local community and to have music that is of utmost quality, but also to be inviting for all ages and social backgrounds. We are seeing too many of those neo-colonial festivals that more resemble cruise ship industry then what music event should be all about. The idea behind "Polja" is to make hub for all sorts of musical experimentations and residencies in the studio and cultural colony which we are trying to build there, and people can still help us achieve this goal by joining our crowdfunding campaign:
https://donacije.rs/projekat/ozivimo-polja/

Can you tell us something about your track "pseudo-kijamet", from the upcoming Popscotch compilation?
As the whole prefix of the compilation is explorations of the modular synthesis, this one is done over several sessions with my modular setup. Mostly I was using Intellijel Shapeshifter and Rainmaker. On a symbolic level, piece stands as an ode to never ending state of crisis that we're living in. State of constant anti-climax of defeat; loop of disappointments that never reaches its ultimate crash. With never reaching total burnout, rebirth is systemically postponed. As always, breaking this Escher spiral must be violent.

How did the entire situation with the pandemic affect your musical / professional life?
Pandemic broke exactly at the time when we put out my record "Balčak" on DISK label, and had the whole promo tour planed. Also it coincided with me becoming part of the Shape platform artist list for 2020. That should have opened some more doors to prominent festivals and proverbially echo-chambered music media, for some seconds/millimeters of promotion. Everything ended up with couple of commissions and online projects and just one or two shows. Good thing is that I contributed with several tracks on couple of really amazing compilations ("Tales from The Far East Vol. 2" on OKVLT and "Respect the unexpected -in the age of sci-fi" on Casual Plastic), done couple of remixes (KΣITO – 6th Street (Kӣr Remix) on Knekelhuis and poorly promoted but very good self-release The Cyclist Conspiracy – Giftopoula (Kӣr remix)).
But where I ventured most during this pandemic is film music, where I done music for 3 movies: Luka Papić's feature lenght "Without", Mate Ugrin's short "Everything ahead" that won prize for best short movie on Sarajevo Film Festival, and Dušan Kasalica's feature length "Elegy of Laurel".  At the moment I'm working on one more international future length production.